Introduction: This wonderful route starts off at the Güggisgrat, a narrow ridge offering views over the Justis valley on the left, and a breathtaking panorama of Lake Thun, Blüemlisalp, Stockhorn, Eiger, Mönch, Jungfrau and Niesen on the right. This high mountain landscape consists of rocks and conifer trees, and you may even encounter wild goats and chamois. After having passed the Gemmenalphorn, you will walk through mountain meadows and, later on, through forests and grasslands, until you reach the village of Waldegg through a quiet asphalt road. This village is situated 850 m (2,800 ft) lower than the starting point of your hike. Some deep ravines will be passed between the Niederhorn and the Gemmenalphorn. Under normal circumstances, this route isn't dangerous, but you should avoid it when snow or fierce winds are expected.

Transportation to Niederhorn: The Niederhorn can be reached by a gondola from Beatenberg. You will reach Beatenberg either by bus/car from Interlaken, or by a funicular from Beatenbucht. Beatenbucht can be reached by bus, car and boat from Interlaken and Thun.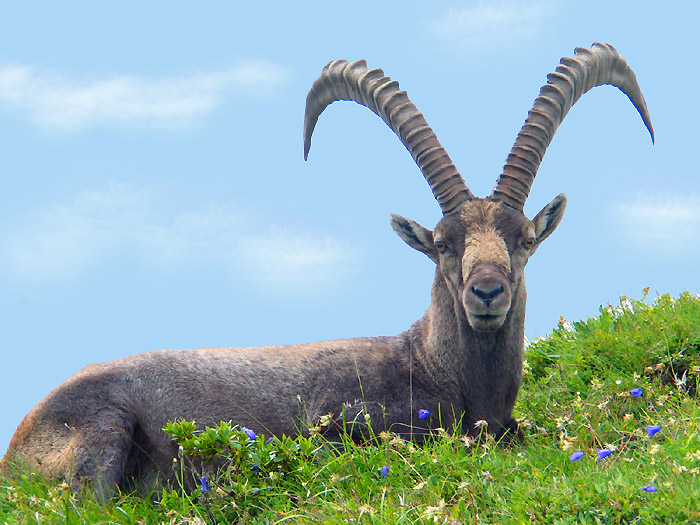 In scenic terms, this is one of the most beautiful hikes in the Bernese Oberland! And apart from that, there′s always a good chance of spotting ibex along the route.

Route description: From the Niederhorn, follow the signs to the Gemmenalphorn until approximately 500 m (1,600 ft) before the Gemmenalphorn. Turn right over here in the direction of 'Beatenberg/Waldegg'. When the weather conditions are clear, you may want to climb the Gemmenalphorn first for an even wider view. After Oberberg (consisting of only a few stables), follow the direction of Waldegg through Chüematte. Then keep following the signs to Waldegg.

Transportation from Waldegg Beatenberg: From Waldegg, a bus takes you to Beatenberg or Interlaken.

Source / an interesting Website:
http://www.myswissalps.com/berneseoberland/berneseoberland-hiking.asp?lang=EN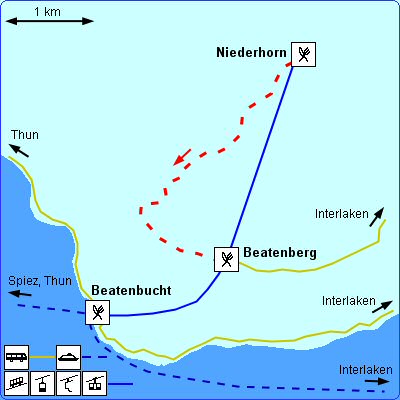 Hiking trail Niederhorn - Beatenberg


Duration: 2h30 / Distance: 4 km (2.5 miles)

Introduction: This route to the village of Beatenberg leads you primarily through woods. An alternative with a more spectacular view can be found on the north-eastern part of the ridge called Güggisgrat.

Transportation to Niederhorn: A gondola can take you from Beatenberg, at the northern slopes along the Thunersee, to the Niederhorn. Beatenberg can be reached by car or by bus from Interlaken, or by boat from Thun or Interlaken Ost (East). A funicular takes you from the landing stage to Beatenberg.

Route description: You need to walk to the south-west to return to Beatenberg. Follow the signs.

Transportation from Beatenberg: You can leave Beatenberg by car, bus or boat (please refer to the transportation tips above).