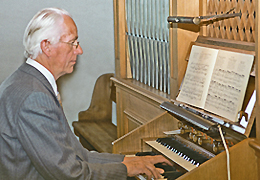 A church organ-interpretation / Time: 1´40"

start ➤ above
Sound enabled ?

Problem with Internet Explorer menu: Tools - Enable Compatibility View!
« back

A musical memory of our late organist:
From the private CD of Hermann Schwander you hear a personal organ-interpretation. With the sensitive organ music will be presented Hermann Schwander`s greetings to all of us live on ...

It is also clear to us that we are not using this simple organ, the broad and diverse range of his skills justice. It should show that Hermann Schwander with his organ playing simply wanted to give pleasure.

The personal interpretation gives the song lightness and joy. Floating sound effects, which are in us linger for a long time ...
---